The Ghana Insurance Association – GIA's games as part of the Insurance awareness month that took place at the University of Ghana sports oval on Saturday 1st July 2023 that brought together forty Insurance companies comprising of life and Non-life Companies and Insurance Brokers, ended with networking and a reminder that the industry is becoming the best in Ghana now.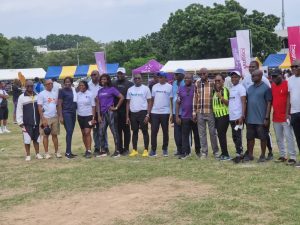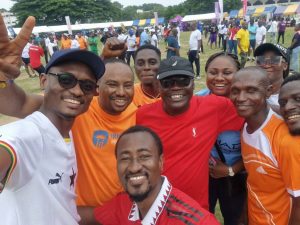 The Insurance Awareness Month celebration was a month-long initiative designed to raise awareness about insurance and showcase its numerous benefits to clients and prospective clients, the general public and anyone interested in insurance matters. All the planned activities and programs for the month aligned with the Association's core objectives. Participating companies were encouraged to prepare for the various sporting disciplines.
In addition, member companies were invited to share short videos highlighting their achievements and bragging rights in sports. These videos were collected by the GIA secretariat and used to promote the event, showcasing the impressive talents within the insurance industry.
The game saw about Forty (40) Managing Directors and CEOs of Ghana's Insurance industry present that day. Priority Insurance Company Limited's Managing Director, Mr. Matthew k.A Aidoo also known as "JOMO' won the CEO Men penalty kick. The award was presented to him by the GIA President, Mr. Seth Aklasi on that day. Mr. Aidoo has rich history of once being a footballer during his prime years in Takoradi.He exhibited incredible skills, composure and experience that day, making him the best fit and winner of, "The Men's CEO Penalty Kick."