Mr. Salifu Abubakar Godmar Addresses Alumni Business Forum: In an effort to bridge the gap between businesses and the insurance world, Priority Insurance Company Limited's General Manager, Marketing and Business Development on 24th of June 2023 shared stage with Osu Mantse, Professor Lawyer Nii Nortey Owuo IV and the President of Tudek( Ghana Turkish Co-operation and Development Association, a non-profit organization to speak about risk management and insurance. This unique invitation offered the Alumni Business Forum of Galaxy international school the opportunity to gain insights into the practical application of risk management strategies and the role of insurance in mitigating potential financial risks.
In this blog by Samuel Kwame Boadu, we will delve into the significance of this visit and explore the valuable lessons the Alumina's of GIS learnt from such interactions.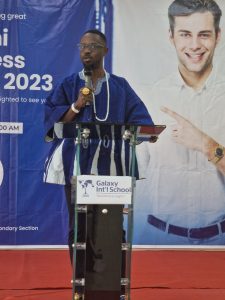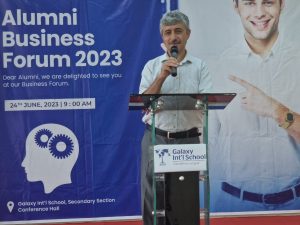 Understanding Risk Management:
The visit by the General Manager to the event provided them with a valuable introduction to the concept of risk management. By explaining the fundamental principles of risk assessment, identification, and mitigation, Mr. Salifu Godmar illuminated the importance of effectively managing risks in personal and professional contexts. This introduction equipped them with a crucial skillset that can be applied throughout their businesses.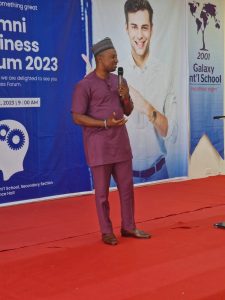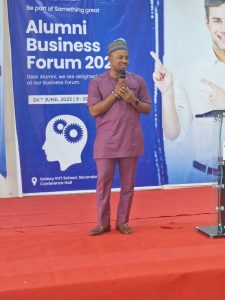 Real-Life Applications:
The presentation by the General Manager, Marketing and Business Development highlighted the practical applications of risk management in various industries and sectors. By sharing examples and case studies, Mr. Abubakar Godmar illustrated how insurance serves as a vital tool in mitigating potential risks and protecting businesses from financial losses. Those present gained valuable insights into how insurance can safeguard assets, provide financial stability, and facilitate business growth in their start ups or already striving businesses
Promoting Financial Literacy:
The visit promoted financial literacy among the Alumni's. Understanding the basics of risk management and insurance empowers owners of businesses to make informed decisions regarding their personal finances, investments, and future aspirations. By shedding light on these essential concepts, Mr. Godmar Salifu instilled a sense of responsibility and awareness regarding financial planning and risk mitigation.
Fostering Collaboration:
The invitation extended to Priority Insurance Company's Marketing and Business Development General Manager created an environment of collaboration and partnership between business owners present and Priority Insurance Company. This engagement highlighted the importance of forging connections between the insurance industry, facilitating a mutual exchange of knowledge and expertise. The visit opened doors for potential partnerships for the company and future collaborations that can benefit both participants and Priority insurance company.
Conclusion:
The invitation extended to Mr. Salifu Godmar Abubakar to speak at the Alumni Business Forum of Galaxy international school on risk management and insurance was an enriching experience for the participants who wants to do business with Priority Insurance Company as one of the Best Insurance firms in Ghana. The visit not only introduced them to the practical applications of risk management and the role of insurance in businesses but also fostered a spirit of collaboration between owners of businesses present and the insurance world.
.
READ ALSO:
.