Priority Insurance Company Limited has opened a new Business Office in Bantama DVLA, in a bid to expand its branch network and boost economic activities in the Ashanti Region.
The new office is part of plans to increase the touch points of the Insurance Company, reach the un-insured population, while offering innovative insurance services to drivers and businesses in the Ashanti Region, especially Bantama.
The new Bantama DVLA Branch brings the number of Branches in the country to more than 32 branches, reinforcing Priority Insurance's commitment to working to meet the firms needs of their diverse customer base.
Speaking at the opening of the new Business Office in Bantama, the Ashanti Regional Manager at Priority Insurance Company Limited, Mr. Frank Ofori Agyekum said Priority Insurance is tenaciously deepening its footprints locally with modern Business Offices and agencies.
"We opened this branch to get closer to drivers and businesses in Bantama and to provide better customer experience to our numerous clients", Mr. Frank Ofori Agyekum added.
"This will further position Priority Insurance to bring its services closer to existing and potential customers. The fact that we are opening agencies and offices in the Ashanti Region reinforces the point by the Managing Director, Mr. Matthew Kweku Attah Aidoo that Ashanti Region is one of the fastest growing Region," Mr. Charles Adu Antwi, Northern Sector Manager remarked
Mrs. Esther Ntorinkansah Badu, Chief Agent at the Bantama Dvla Branch also noted that the new branch formed part of Priority Insurance's strategy to extend its reach and offer seamless insurance services across the country and encouraged customers to use Priority Insurance's affordable policies and packages.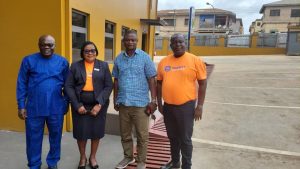 "One of the branch network expansion initiative's merits is that the majority of Ghanaians who still remain un-insured due to a number of factors including proximity to insurance services and other forms of inconvenience will now be able to afford insurance services with ease", Mr. Matthew Kweku Atta Aidoo added.
Read Also :
.
Mr. Matthew Kweku Atta Aidoo in a speech said the development of Bantama is very critical and central to the economic transformation of the Ashanti Region.
He applauded the Ashanti Regional Manager with his team for their commitment in the Insurance Industry especially for Priority Insurance Company Limited. He concluded by applauding the Ashanti Regional Team again for their role in the development of Bantama. The opening of this branch, which is the first step to help the people of Bantama to understand the importance of insurance also signifies the importance of Bantama in the development of the Ashanti Region of Ghana
.
If you are at Bantama and its environs, you can Call the Bantama Dvla Branch on +233(0)244-360-680 or Email Us on info@priorityinsuranceghana.net.
.
View this post on Instagram